Alles over toum: Libanese knoflooksaus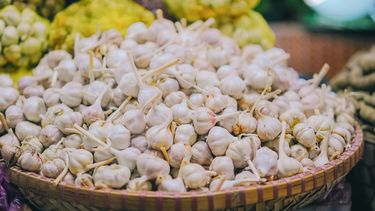 Fan van aioli? Dan word je vast erg blij van dit feitje. Er bestaat ook een Libanese versie van aioli: toum! En die is zo mogelijk nóg lekkerder (en op de koop toe nog 's vegan ook).
Dit is alles wat je wil weten over toum, de Libanese knoflooksaus die je het best kan vergelijken met aioli (maar dan nét weer anders is).
Wat is Toum?
Toum betekent in het Arabisch letterlijk 'knoflook'. Het is in feite een romige knoflooksaus met een zalvige structuur. Toum is vrij dik, waardoor het ook wel doet denken aan een spread.
Toum wordt gemaakt met vier ingrediënten: knoflook, olie, citroensap en zout. Door ze te mixen als een mayonaise ontstaand een dikke, witte, glanzende massa. Je leest het goed: eieren komen hier niet aan te pas, ideaal voor vegans dus.
Bij wat eet je toum?
In Libanon wordt het vooral bij (kippen)vlees geserveerd. Smeer het over een stukje gegrilde kip of dip er je kipspiesjes in. Liever veggie? Serveer het dan bij een gegrilde aubergines of een Arabische tajine.
Natuurlijk is de saus al zo lekker van zichzelf dat je er ook gewoon wat Libanees platbrood bij kan serveren – tof voor bij de borrel!
Recept voor toum
Ben je overtuigd van de kwaliteiten van toum? Probeer het dan vooral eens zelf te maken. Laatst lazen we in het Parool Merijn Tols ode aan knoflook.
Daarin staat tevens een handig basisrecept. Probeer het vooral eens uit, je zal meteen verkocht zijn.
Meer bijzondere producten