Dit zijn de 12 grappigste restaurantnamen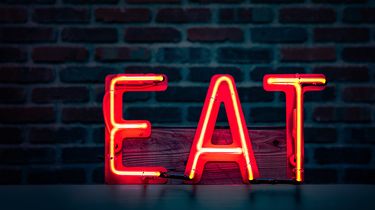 Als je een restaurant begint is – naast dat er lekker eten wordt geserveerd – de naam bedenken één van de belangrijkste dingen. Ga je voor een classy naam, een simpele oer-Hollandse naam of een naam die blijft hangen door woordspelingen?
Dat laatste is iets wat de eigenaren van de onderstaande restaurants het belangrijkst leken te vinden. Maak je klaar voor een flinke dosis woordgrapjes, zo slecht dat ze geniaal zijn. We zetten de 12 grappigste restaurantnamen op een rijtje.
1. Thai Tanic
Eén ding is zeker, deze naam zul je niet snel vergeten. Maar of het nou veilig is om daar naar binnen te gaan…
2. Lord of the Wings
Ze zien er wel heerlijk uit, deze kippenvleugels. Je zou ze bijna precious kunnen noemen.
3. Wok this way
Bij zo'n slimme naam is het moeilijk to wok away, als we het zo moeten zeggen.
4. The Codfather
Kabeljauw, heerlijk! Spot niet met deze gasten, want ze hebben ongetwijfeld de beste.
5. Frying Nemo
Just keep swimmi… of niet. Zwem maar gauw weg, Nemo!
6. Just Falafs
Toen wij deze snapten kwam er wel een lach op ons gezicht, dus dat betekent dat we er naar binnen mogen. Dat is mooi!
7. Game of Scones
Breakfast is coming! 
8. Bread Zeppelin
Zouden ze binnen ook een stairway to heaven hebben?
9. Like no Udder
In udder news… Dit is nou een voorbeeld van een restaurant dat haar naam écht waarmaakt.
10. Basic Kneads
En daar hebben ze volkomen gelijk in!
11. Thai Me Up
Rustig maar, het is niet wat je denkt. Dit restaurant bevindt zich dichtbij skiresorts, bovendien is de eigenaar skileraar!
12. Wild Thyme
Dit heerlijke kruid krijgt nu eindelijk ook een eerbetoon!